Landmark -  Aurora branch
Safety Maintenance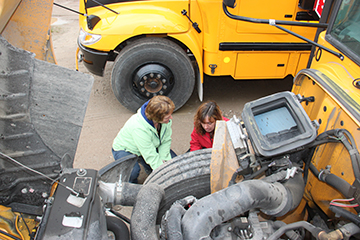 Every Landmark Bus Lines employee including drivers, mechanics, dispatchers and office support staff is dedicated to safety. This commitment includes our shop staff's adherence to our Preventative Maintenance program. Our Easy Bus software tracking system makes it easy for our staff to ensure maintainance is performed on all of our vans, school buses, limos, transit buses and coach buses in accordance with strict Ministry of Transportation regulations. Under the Commercial Vehicle Operator's Registration Certificate (CVOR) program, brakes are inspected every 3 months and a complete inspection completed every 6 months. In between, regular servicing and maintenance is performed.
Landmark Bus Lines standards are consistent with safety regulations mandated by the following organizations:
Ontario's Ministry of Transportation
Ontario School Bus Association
Ontario Safety League
Ontario Motor Coach Association
Motor Vehicle Saftey Association
Our passengers can count on a safe and comfortable ride each and every time aboard a Landmark Bus Lines vehicle.
Kindly review the Ministry of Transportation website regarding bus safety ratings
See also:  SAFETY TRAINING  |  SAFETY TIPS