Landmark -  Alliston branch
About Landmark Bus Lines
Mission: We provide the safest, most reliable transportation to the communities we serve.
Vision: We are re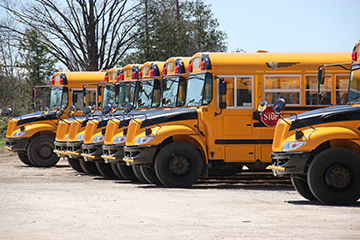 cognized as a leader in the transportation of people. We achieve this by always putting safety first. We recruit, train and motivate only the best people. We maintain our fleet to the highest standards. We continue to learn and change.
Values: In realizing our mission and vision we adhere to our values of quality, integrity, respect and teamwork.
We have 6 operating locations:
- Alliston
- Aurora
- Barrie
- Collingwood
- Newmarket
- Vaughan
All locations include shop, fuel and washing facilities
Satellite yard located in Wasaga Beach
Community minded company with a long history of supporting the Heart & Stroke Big Bike Ride among other causes
Training for B class licence conducted in-house by qualified training team
See also:  OUR HISTORY  |  OUR TEAM