Our Team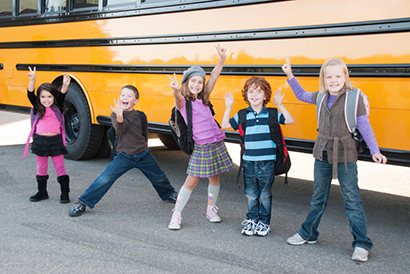 Kevin Gillis, Vice-President
Kevin has been involved in the school bus industry since the age of 13 and has held a variety of jobs from working in the wash bay, shop, dispatching and Branch Manager overseeing more than 400 school buses. In 2008, Kevin was offered a position at Sinton Transportation to run the day to day operations by our late owner Stan and we're glad he did! Today, as our Vice-President, he oversees all aspects of our company.
Christine Johnson, Director of Safety and Education
Christine joined Sinton Transportation in 1997 as a school bus driver. A couple of years later, she joined the training department and hasn't look back. She now oversees all the training and education for Landmark as well as health & safety. Christine also provides human resources support. In addition to her day to day responsibilities, her extensive creative talents are a real asset to us.
Sandy Higgins, Alliston Branch Manager
Sandy has been in the busing industry for over 26 years. Choosing to stay home after the arrival of her 1st child, Sandy followed in her mothers' footsteps to obtain her "B" licence and drove a route in Tottenham. A few years later an opportunity came up to move into managing the shuttle buses out of Rama Casino. Back into the school bus industry after years of commuting to and from Orillia, Sandy managed a fleet of buses in the northern area of Simcoe County. Lots of changes in the industry during the next 15 years with the most recent one bringing Sandy to the team of Landmark to oversees all aspects of the Alliston branch from Dispatch, Routing and Charters to Mechanics.
Shannon Farrow, Barrie Branch Manager
Shannon has been a member of the Sinton Transportation family since 2000. Starting in accounting, Shannon then moved into overseeing the Barrie shop. In this role, she was responsible to ensure that Sinton Transportation met all Ministry of Transportation safety standards...plus managing a team of mechanics, apprentices and bus washers! Today she oversees a branch of more than 200 school bus routes, drivers, a team of dispatchers and the shop.
Elizabeth Harpley, Collingwood Branch Manager
Elizabeth started as a bus driver with the Sinton team in November 2013. Since then, she has also worked as Shop Coordinator and Full-Time Dispatcher and is now our Branch Manager in Collingwood. Elizabeth lives in Singhampton (the snow capital of our region) with her husband Josh and their two boys, Mason and Colton. Elizabeth says that she loves her job and we love having her with us.
Bruce Croft, York Region Manager
Bruce oversees our York Division which has seen a lot of expansion in the past three years. Bruce brings with him many years of management experience from different transportation companies.
Robbin Forbes, Vaughan Branch Manager
Robbin has been involved in the bus business for over 20 years after getting her start in Toronto as a driver.
She has also held positions as receptionist, dispatcher, operations manager and general manager before joining the Sinton team in June 2016. She now lives in Barrie with her husband of 35 years. Robbin says that once you start in the busing biz, you're hooked!
See also:  OUR HISTORY  |  ABOUT US